888poker.it Review
888Poker.it is the Italian reservation of the world famous 888Poker poker room. This site is characterised by a very weak field, mainly composed of recreational Italian players. Therefore, 888Poker Italia can become the premier poker room for regulars.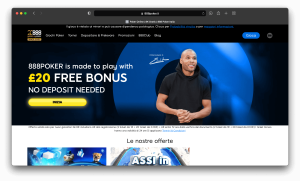 Traffic and game selection
We will start our review of 888Poker.it with the attendance of this room. Of course, the international site is far ahead of the Italian reservation in terms of traffic. However, the main advantage of 888Poker.it lies not in the quantity, but in the quality of the traffic. Due to the large number of recreational players, the game here will be very profitable.
For poker players from European countries, the prime time of the evening in Europe will be convenient. Most of the games are collecting cash tables 6-max and 9-max with the rules of No-Limit Hold'em at low and medium limits. There is also a game at NL100 +, but there are not many tables at these limits. So, on NL100 there are 3-5 tables on average. Omaha is played mainly at PLO25 and PLO50. Tables with other rates are very rare.
The 888Poker it tournament grid is quite extensive and includes several dozen regular events with guarantees. Most of the tournaments are held after 17:00 CET, which will be convenient for many players. Every day about 50 regular events are organised. Most tournaments have buy-ins up to € 22. The most expensive event for 109 euros offers a guarantee of 3000 euros. Every Sunday there is a € 250 tournament with a € 5,000 guaranteed prize pool. SNG tournaments are not popular at 888Poker it.
Fans of lottery tournaments will be able to take part in Blast poker – an analogue of spins. Unlike classic Starz Spins, Blasts are played at 4-max tables. In addition, after the start of the tournament, a timer automatically turns on, and when the time is up, all players go all-in.
Software review
888Poker Italia client supports both Italian and English. In terms of its design and functionality, the Italian reservation software practically does not differ from the international version of 888Poker. In the cash lobby, you can sort tables by stacks (micro, low, medium, high) and number of players (3-6, 7-10). Tables are marked with appropriate icons depending on the format.
In the tournament lobby, you can sort events by stage, format, type of poker. On the left side of the tournament name there is an icon showing its type – turbo, super-turbo, snap, knockout, etc. However, due to the small selection of tournaments, the use of filters in 888Poker.it is ineffective. Moreover, because of the weak field, you can afford to play more expensive events. The room's client supports the work of all poker trackers directly.
888poker Italia Rake
The rake at 888Poker.it varies from 2.5% to 5.5% depending on the limit played, the type of poker and the number of players in the hand. At micro-stakes up to NL20, the commission will be 5.5%, and the cap will be 0.50-3 euros.
888Poker it Rakeback
888Poker.it has a loyalty program that allows you to receive cash and tournament tickets. The player receives bonus points for the generated rake. The more points you collect, the higher your VIP status will be and the more profitable you can exchange them for money or tickets. In addition, on the Italian Eight Reservation, you can complete special tasks and receive instant prizes. The first time you deposit your account, a welcome bonus is valid – 100% to the deposited amount.
To learn more about rakeback at 888Poker.it and get additional benefits from playing in this room, please contact our managers.
Advantages and disadvantages of 888Poker Italia
Given that 888Poker.it only accepts players from Italy, you will need a VPN to access and play in this room. Also, the disadvantages of the Italian reservation include relatively low traffic and a small amount of rakeback. To carry out financial transactions, you will need the help from agents.
As for the advantages, the main advantage of 888Poker Italia is the very weak level of the opponents' play. The poker room is mainly registered by amateurs from Italy, whose level of play is comparable to live poker. Therefore, even with a relatively low rakeback, you can win more at the same limits at 888Poker.it then at other popular rooms. Also, the advantages of the Italian reservation include convenient and functional software inherited from the 888Poker international platform. Support for poker trackers will allow regulars to more effectively exploit the mistakes of their opponents.
Contact our managers to register at 888Poker.it on the most favourable terms and get competent information support.
❓ What is the difference between 888poker.it and 888poker?
888poker.it is an Italian reservation of the main 888poker room. According to Italian laws, Italians can play only in reservations.888poker.it is an Italian reservation of the main 888poker room. According to Italian laws, Italians can play only in reservations.
❓ Why is it profitable to play on 888poker.it?
Only amateur level Italians with low game rate play on 888poker.it. Thus, there will be only weak opponents at all tables.Only amateur level Italians with low game rate play on 888poker.it. Thus, there will be only weak opponents at all tables.