PokerStars Italy Review
PokerStars.it is one of the largest poker reservations since 2009. In terms of traffic, it's in first place in Italy, and is also included in the TOP-5 of the largest European operators according to the PokerScout service.
PokerStars Italy is ideal for poker players who like to skate at mid to high limits. Due to the weak field and high attendance, experienced players will be able to make good profits here. Weak squads are due to the fact that this Italian poker reservation is closed to most of the regulars.
Poker room traffic
In terms of traffic, PokerStars Italy is in the top ten of the most visited networks and rooms. Here you can find a lot of games 24 hours a day, 7 days a week. However, peak traffic occurs in the evenings (European time), and most connections occur on weekends. The game currency at PokerStars.it is the Euro.
The largest traffic is concentrated at 6-max cash tables according to the rules of No-Limit Hold'em. Tables are collected at all limits up to NL1000. At each of the limits from NL100 to NL400 there are about 5-10 tables. NL50 is the more popular limit - more than 10 tables are played.
According to the rules of pot-limit Omaha, tables with a purchase of 50 euros are also the most common, at peak times there are about 5 of them. At higher limits in Omaha, 1-2 tables are usually played, but there is also an expensive game (up to PLO1K).
The Italian poker room PokerStars.it also attracts heads-up fans. One-on-one is played at limits from NL25 to NL1K. Most of the game is observed at the limits NL100-NL600 - an average of 10 tables at each of them. Each limit higher and lower collects about 5 tables.
PokerStars Italy also plays SnG. The most popular format for these tournaments is Spins. The maximum buy-ins are 25, 50 and 100 euros. Playing at the highest limits, when the maximum multiplier drops out, you can win from 250 thousand to 1 million euros.
The most expensive multi-table tournaments are represented by regular events with prices ranging from 50 to 125 euros. The biggest tournament is taking place on Sunday with a buy-in of € 125 and a guaranteed prize pool of € 50K. The poker room also organises inexpensive satellites through which you can qualify for larger tournaments cheaply.
PokerStars.it software
The poker client PokerStars Italy by its interface and functionality is practically indistinguishable from the international poker room PokerStars. Flexible settings allow you to customise the client for the needs of each player, making it as convenient as possible. Thanks to the filter system, you can quickly find the tables or tournaments of interest (by limits, formats, number of players and other parameters). The Italian poker reservation PokerStars.it guarantees a safe and fair game.
The undoubted advantage for regulars will be the fact that the room is compatible with poker trackers. HUD is supported during the game, which allows players using the Poker Tracker or Hold'em Manager to gain a significant advantage over their opponents.
PokerStars.it rake and rakeback
The rake in PokerStars.it is withdrawn at all limits at the cash tables the same - 5.5%. But the limit on the maximum commission varies between 1-3 euros, depending on the limit and the number of players in the distribution. In MTT tournaments, a 10% commission is charged, which is included in the ticket price. In turbines and hyper-turbo tournaments, the rake is slightly less. In lottery tournaments, the commission depends on the buy-in. For example, in a tournament for 50 and 100 euros, the rake will be 5.16%, and at a limit of 25 euros - 6.16%.
You can find out the amount of rakeback at PokerStars.it from our manager. We will offer the most favourable conditions for playing in this poker room. In addition, only through our agents will you have access to PokerStars.it.
Advantages and disadvantages
If we compare the international poker room PokerStars with its Italian reservation, then the latter clearly loses in terms of traffic. However, due to the nature of Italian laws, locals can only register with PokerStars.it. On the one hand, this is a disadvantage (less traffic), on the other, an advantage (a weak field consisting of Italian recreational players).
The advantages of PokerStars.it also include the advanced software from the best poker room in the world, which has all the modern features and in-demand features. The PokerStars brand is known all over the world and has an impeccable reputation. Therefore, the Italian reservation can also be trusted without a doubt.
The poker room's support for poker trackers is another important advantage that experienced players will definitely take advantage of. By collecting statistics and information on opponents, you will get an even greater advantage over weak Italian players, which will increase your overall profit from the game. High rollers will find plenty of play here at stakes up to NL1K and PLO1K. Peak traffic occurs in the evening European time, which will be convenient for many players from the CIS countries.
To get more detailed information about the conditions of registration at PokerStars.it, and to conclude the most profitable deal, please contact our managers.
❓ What is the difference between PokerStars Italy and regular PokerStars?
PokerStars Italy is an Italian reservation of the main PokerStars room. According to Italian laws, Italians can play only in reservations.
❓ Why is it profitable to play on PokerStars Italy?
Only amateur level Italians with low game rate play on PokerStars Italy. Thus, there will be only weak opponents at all tables and limits as well as convenient software and low rake.
PokerStars.it Live Traffic
| | |
| --- | --- |
| Network | Independent |
| Rakeback | VIP Deal |
| Rake | 5,5% cap 1-3 |
| Trackers Support | Yes |
| Cashier | via Agent |
| VPN | Needed |
Pros and Cons
High traffic at all the stakes
Weak level of play
Heads-Up tables up to NL1K
difficult and expensive set-up
low rakeback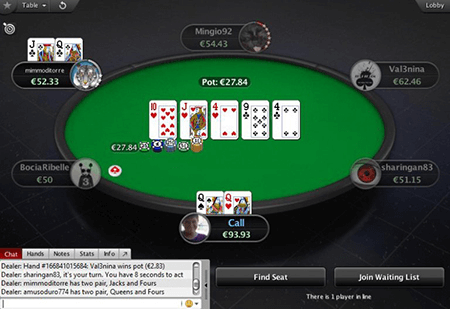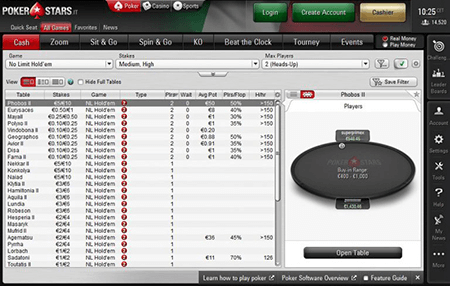 How to register in PokerStars Italy?