PokerKing Review
PokerKing is a large poker room of the popular American Winning Poker Network, accepting players from the USA. It is one of the few rooms where you can play against rather weak American poker players. The main distinguishing feature of PokerKing is the focus of the room on the regulars. The fact is that all promotions and bonuses are arranged exclusively for regs. These are direct rakeback, reloads, leaderboards for cash games and SnG. Thanks to such offers, regulars can get up to 65% rakeback when playing actively, which is one of the biggest figures among American poker rooms. 
The average number of connections at PokerKing is 5000. There is play at cash tables, multi-table and SnG tournaments at almost any limit. The poker room offers a pretty big welcome bonus on your first deposit. Despite the fact that PokerKing is an American room that accepts players from the USA, residents from other countries have access to it as well. The ability to legally use auxiliary programs to collect statistics make this room as adapted as possible for regulars to play. 
🎁 PokerKing Bonuses
As already mentioned, PokerKing offers its users quite favorable conditions for the game. Also, the poker room provides a big bonus when you make your first deposit. Let's take a closer look at each offer. 
💰 Deposit Bonus
Today, almost every room offers new players to double the deposited amount on their first deposit. However, no room does not stand close to PokerKing in terms of the maximum possible reward. The fact is that in this room, the first deposit can be increased by $2000. It is enough to deposit from $25 and your deposit will be doubled. 
To take advantage of this offer, you do not need to enter any promo codes. Just deposit your account for the first time, and the bonus will be automatically credited. The wagering of the bonus is quite simple. For every 27.5 points you earn, you will receive one dollar. Points are awarded for real money games. Please note that the wagering bonus to the first deposit is given 60 days.
😈 The Beast Leaderboard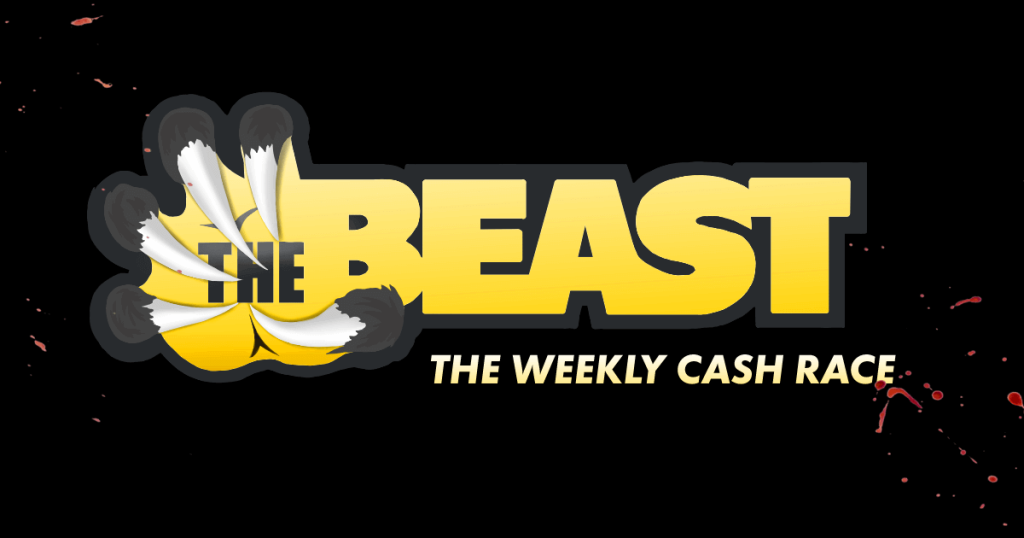 For cash players, PokerKing has a rake race every week. You can earn up to $500 every week just by playing 6-max and 9-max tables. The race starts at 00:00 on Saturday and ends at 23:59 on Monday. No additional fees are charged by the poker room for participating in the race. The prize pool is made up of the rake that has already been withdrawn. 
You need to earn loyalty points to participate in The Beast race. For every 2 cents of rake you will get 1 point. The rake generated by each individual player is directly related to their share of the raffle pot. 25% of each prize pool goes to the next week's race. 
💥 Sit & Crush Leaderboard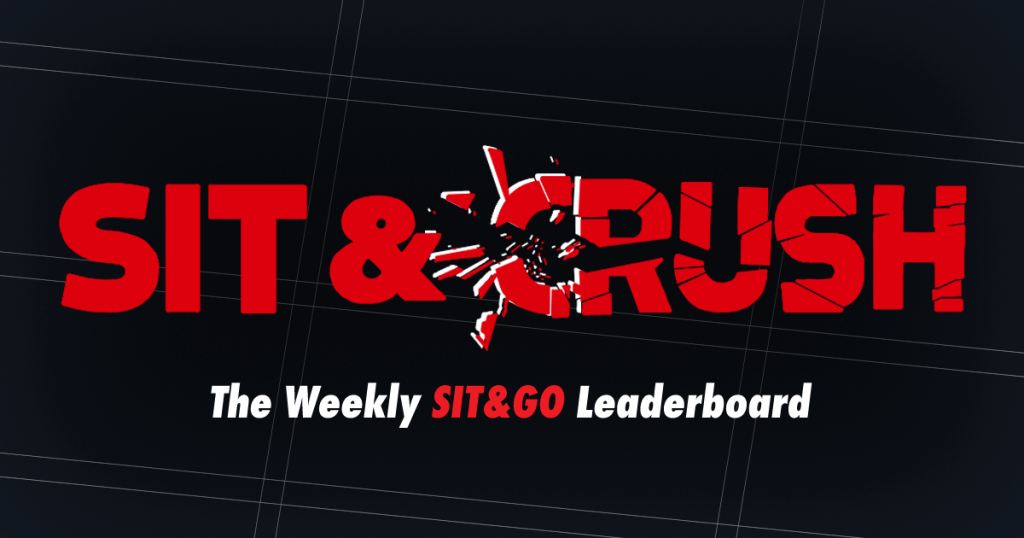 Sit & Crush is a weekly race for SnG players. Heads-up SnG tournaments do not participate in this leaderboard. The start and end of the race is the same as in The Beast. Every 25% of the rake taken from tournaments goes to the prize pool. For example, at SnG, $3 of rake is taken out for $50, so $0.75 goes to the Sit & Crush prize fund. 
To participate in this race, you need to play SnG and earn points. For every $1 in prize money generated, a player is awarded 5 points. Race leaders receive $500 each and a $95 ticket to the Satellite, which is held on Sundays. 
💣 Bomb Pots Cash Tables
Poker King has a special category of tables called Bomb Pots. They are marked by a special icon and are available for players of any limit. Playing at such tables goes by the standard rules until the "bomb explodes". 
Four times in an hour a bomb goes off at random cash tables. As a result, before the cards are dealt, each player at the 9-max table bets 2 BBs and each player at the 6-max table bets 5 BBs. After that, the players are dealt a close card, the flop is dealt an open card, and the game continues as usual. This feature makes the game more unpredictable and aggressive. 
💲PokerKing Rakeback
Rakeback at PokerKing depends on your rakeback level in the Loyalty Program. There are only six levels in the program, and the first four are given for a month and the last for a year. At the first level you will get only 12% rakeback, and at the last level you will get 65% rakeback. 
A player is awarded 5.5 status points (SP) per rake dollar generated in the cash game. At higher levels the Royalty Points (RP) factor increases. It is RP that can be exchanged for real money at the cashier's desk. The rate of SP always remains the same, so it makes no sense to collect them. When a certain number of these points are accumulated in a year, players are awarded special rewards. 
LEVEL
STATUS POINTS
RP COEFFICIENT

 

RP EXCHANGE FOR $1
TOTAL RB INCLUDING ACHIEVEMENTS
Bronze
0
1x
Silver
750
1,5x
100
12%-14,5%
Gold
3,000
2x
90
14,5%-20%
Platinum
7,500
2,5x
83,3
17,5%-22%
Royal
100,000
3,5x
66,6
26%-46%
King
1,000,000
5x
62,5
57%-65%
To maintain the current level you need half as much SP as to achieve it. From 15 to 20% of rake goes to the formation of prize funds in rake-races. The maximum level, King, is valid until the end of February of the next year. In its essence and structure of the loyalty program PokerKing is similar to the Supernova Elite Stars, which operated in the past largest poker room. On the aggregate of all the bonuses and leaderboards it is quite possible to get up to 70-75% wpn rakeback. 
💳 PokerKing rake
Rake from Hold'em and Omaha cash tables is charged at 5%. The commission is divided according to each player's contribution to the pot. "No Flop, No Rake" rule applies. 
| | | | | |
| --- | --- | --- | --- | --- |
| LIMITS | 2 PLAYERS | PLAYERS | 4 PLAYERS | 5-9 PLAYERS |
| Up to $2/$4 | $0.50 | $1.00 | $2.00 | $3.00 |
| $2/$4-$4/$8 | $1.00 | $1.50 | $2.00 | $3.00 |
| $5/$10 and higher | $1.25 | $1.75 | $2.25 | $3.00 |
Considering that in PokerKing the rake on low limits is rather big, the rake is higher compared to other rooms on bets up to $1/2. However, in games starting from NL/PLO 200 rake in PokerKing will be about the same as in other popular rooms. 
As for SnG and multi-table tournaments, the commission can be from 2% to 10%. Rake depends on tournament format, table size, and structure. In Jackpot Spins, regardless of the limit, a 6% commission is charged. 
🎮 Game formats
In terms of traffic, WPN, which includes PokerKing, is one of the ten largest in the world. If you consider only American networks, it is the largest network. If we consider only the cash traffic, the average for the week is about 1100 connections. Peak attendance is late night and early morning Moscow time. 
💰 Cash
Traditionally for the American rooms, in PokerKing, Hold'em is the most popular. This type of poker is played on limits from 1/2 cents to $25/50. The most common tables: 6-max, 9-max and ATS. Most of the tables are on NL2 limits – about 15-20. Also about 10 tables can be found on each of the limits – NL100, NL200 and NL400-600. 
PokerKing is ideal for fans of full-ring tables. This format and 9-max is the most popular here. 
In Omaha at Poker King, you can also play, and on the same limits as in Hold'em. There are more variations of this game – pot limit, no limit, limit, with 5 cards, High/Low. 
🏆 МТТ
Multi-table tournaments at PokerKing feature several popular disciplines and formats. You can play Omaha or Hold'em in regular re-buy, knockout, and dipstack formats. Tournaments are played at 6, 8 and 9-max tables. Entry fees start at 10 cents and go up to $1050. Each week the guaranteed prize pool reaches $12 million. 
The most popular tournaments at PokerKing are $1 million GTD for $265 and $100K GTD for $22. There are also $215, $630, $215 and $10.5 tournaments with prizes of $200K, $500K, $200K and $50K respectively. In addition, there is an annual series with guaranteed prize money in excess of $10 million. 
🪑 SnG
In many European rooms SnG format has almost completely disappeared. But in PokerKing, these tournaments have been modified, and now are very popular. Not only standard 6-max and 9-max tables are left, but also tournaments with regular, turbo and hyper turbo structure. Buy-ins range from $1.65 to $108. There are dozens of tables played at night. 
Spins, which at PokerKing are called JackPots, take place on 9 limits. And 7 of the limits are played by Hold'em rules, and 2 are played by Omaha rules. The cost to participate in Hold'em spins ranges from $2 to $40. On Omaha, there are $5, $15 and $50 tournaments. 
🆓 Freerolls
It will be great news for newcomers that PokerKing has freerolls, and they are open to all registered players. Free tournaments with a prize pool of $50 are held every 3 hours. Moreover, there are freerolls on both Hold'em and Potlime Omaha. 
🏎️ Blitz Poker
As for fast poker, it's called Blitz at PokerKing. It's mostly played on NL10, NL50, and NL200. At each of the limits, on average, 80 to 130 people are gathered. It is worth noting that only in Blitz can play from cell phones. 
🏁 How to get started playing at PokerKing
To start playing at PokerKing, you need to do the standard manipulation for any poker room. That is, first you need to download the application, register and verify your account. Then make a deposit and start playing.  
Registration
So, the first thing you have to do is download the PokerKing client to your computer. After that, run the software and do the simple steps:
Click on Create new account in the login box.

 

Enter your valid email address and go to the next step.

 

Enter a unique nickname and player name. If there is a promo code, enter it in the appropriate field.

 

At the specified e-mail will come an identifier, which must be entered at the next step.

 

Come up with a strong and complex password and enter it twice.

 
You can now use your nickname and password to log in to your account. However, you will have to fill out a form to make a deposit and receive the welcome bonus. This is a standard form that includes your full name, date of birth, residential address, phone number and some other personal and contact information. 
✅ Verification
In order to be able to withdraw money won from your PokerKing account, you need to be verified. You need to send scans of your passport, ID card or bank statement, which proves your address, to our customer support email. It usually takes up to two days to verify the documents sent. So, make sure you verify your account beforehand so you don't have to wait too long if you need to withdraw money. 
💻 How to download PokerKing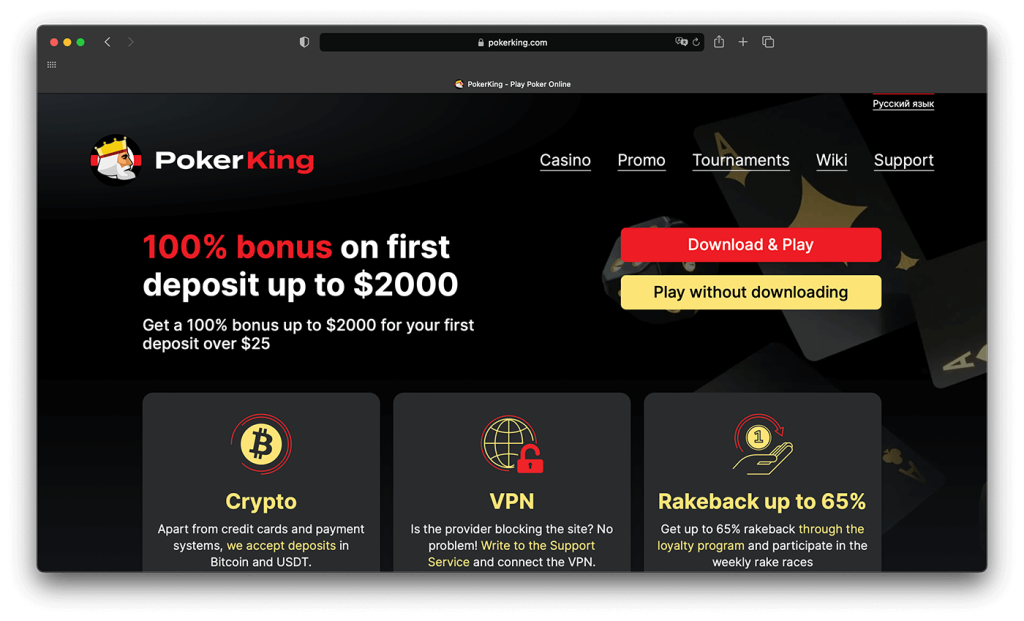 You can download the software PokerKing from the official poker room website absolutely free. The client works on Windows and macOS. 
🖥️ How to download it on PC
To download and install the software on your PC, follow these steps:
Go to the official site of PokerKing.

 

Click on the button "Download & Play".

 

Wait until the download of the installation file is complete.

 

Start the downloaded file and follow the instructions until the installation is complete.

 
Now you can sign in to your account, or create a new account if you haven't already. 
🧑‍💻 Web version
If you want to play from your mobile devices you can use the web-version of the room. To do this, you do not need to download any additional software. Simply log in to the official PokerKing website and it will adapt to your gadget's screen size automatically. Functionality is limited compared to the application here. You can only play Blitz, Spins and Satellites. But you can also make deposits and withdrawals using the web version. 
📱 PokerKing App
In line with the fast-paced evolution of the digital age, PokerKing has introduced the PokerKing App to enhance the gaming experience for its users. The app, available for both iOS and Android devices, offers seamless access to the platform's extensive array of poker games, tournaments, and promotions. The PokerKing App is meticulously designed to mirror the complete functionality and user-friendly interface of the desktop version, thereby ensuring that players can enjoy a consistent gaming experience regardless of the device they use.
The app also boasts several cutting-edge features tailored for mobile users. One such feature is the 'multi-tabling' option, enabling players to engage in multiple games simultaneously, thereby optimizing the potential for winning. Moreover, the PokerKing App offers convenient access to account settings, allowing players to manage their deposits, withdrawals, and other account-related activities swiftly and securely on the go.
PokerKing recognizes the importance of real-time statistical information to regular players and has ensured that the app is compatible with auxiliary programs used to collect these statistics. Additionally, the PokerKing App supports push notifications, which keep players informed about new offers, bonuses, and tournaments.
In summary, the PokerKing App delivers the full-fledged poker room experience straight into the palm of your hand, making it an indispensable tool for any serious PokerKing player. Whether you prefer cash tables, multi-table tournaments, or SnG, the app has you covered, providing an accessible, engaging, and rewarding mobile gaming experience.
💸 Deposit and Withdraw
PokerKing supports many payment systems. At the moment, the poker room accepts payments in Bank Cards(VISA/MasterCard),  cryptocurrencies such as Bitcoin, Litecoin, Dash, Bitcoin Cash and many others. As for e-wallets, Skrill, Neteller and ecoPayz are supported. Money is deposited to the account instantly. It may take up to 5 business days to withdraw the money. Depending on the payment system you use limits may differ.
For example, when depositing through Skrill you will be able to put on account from 5 to 1000 dollars per transaction. And when using a Bitcoin wallet you'll be able to deposit from $5 to $10000. Most payment systems allow you to withdraw up to $2500.
When making deposits the room does not charge a fee. If within a month you do not withdraw more than $2500, then the commission will not be taken for the cash=out. But from all following cash-outs you will have to pay 5% fee. That's why it is recommended that you withdraw no more than $2500 per transaction once a month.
Deposits
| Deposit Method | Processing Time | Minimum Amount | Maximum Amount | Fees |
| --- | --- | --- | --- | --- |
| Credit Card | Instant | $10 | $5,000 | None |
| Debit Card | Instant | $10 | $5,000 | None |
| Neteller | Instant | $5 | $10,000 | None |
| Skrill | Instant | $5 | $10,000 | None |
| Bitcoin | Up to 1 hour | $5 | $10,000 | None |
| Bank Transfer | 3-5 days | $100 | No limit | Varies |
| Paysafecard | Instant | $10 | $1,000 | None |
| ecoPayz | Instant | $10 | $10,000 | None |
Withdrawals
| Withdrawal Method | Processing Time | Minimum Amount | Maximum Amount | Fees |
| --- | --- | --- | --- | --- |
| Credit Card | 1-3 days | $20 | $5,000 | None |
| Debit Card | 1-3 days | $20 | $5,000 | None |
| Neteller | Up to 24 hours | $20 | $10,000 | None |
| Skrill | Up to 24 hours | $20 | $10,000 | None |
| Bitcoin | Up to 1 hour | $50 | $50,000 | None |
| Bank Transfer | 3-5 days | $200 | No limit | Varies |
| ecoPayz | Up to 24 hours | $20 | $10,000 | None |
🎰 Conclusion
PokerKing is definitely one of the best poker rooms for regular players with weak American players. High attendance, many recreational players, high rakeback and the ability to use third-party software make this room a real godsend for regs.
Contact us to get PokerKing rakeback deal:
❓ Is it true that there are US players on PokerKing?
Yes. PokerKing is a part of WPN network, which provides an access for US players.
❓ What time is the best to play on PokerKing?
We recommend you playing from 1AM to 10 AM CET time.
❓ Can HUD be used on PokerKing?
Yes, on PokerKing you can use HUDs and statistics trackers such as Holdem Manager, PokerTracker or Hand2Note.