RedStar Poker Review
RedStar Poker is a well-known poker room among the regular players, it is part of the iPoker network. The room has been operating on the online poker market since 2005. During its existence, it has changed three networks, and on iPoker it has gained the most popularity. At the moment, the average number of connections of the room is 7000, which corresponds to the 6th place in terms of traffic among the most visited sites. 
After RedStar Poker left the MPN due to the closure of the latter and moved to iPoker, the room's business has improved significantly. Traffic has increased noticeably, and is close to that of 888Poker and Winning. Also, this transition was good news for the residents of the CIS countries, because for some countries access to the iPoker network was closed. With the advent of RedStar Poker, residents of Ukraine and Russia were able to sign up in the network. 
Redstar has gained wide popularity among regulars due to a simple and clear loyalty program, allowing to get a 35% rakeback and the ability to use third-party software to collect statistics.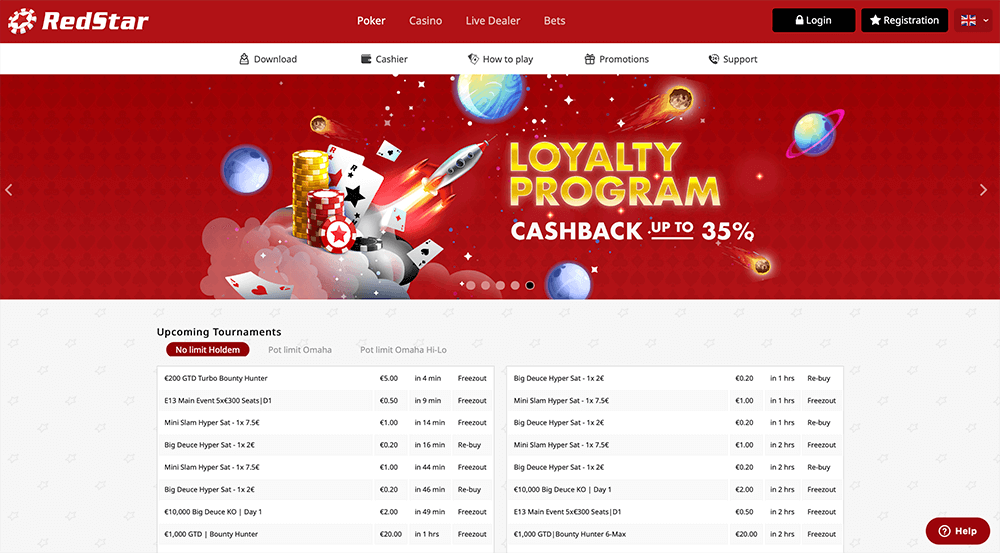 Bonuses and promotions
To attract new players and increase the activity of regular customers, RedStar Poker regularly holds various promotions and provides bonuses. There is a bonus on the first deposit for newly registered players. Leaderboards are arranged and there is a loyalty program. 
Welcome Bonus
Redstar Poker provides one of the most generous first deposit welcome bonuses among competitors. You can get a 200% bonus on your first deposit of up to $2000. The minimum deposit amount to activate the offer is $10. For example, if you deposit $100, the room will give you an additional $200 – a very tempting offer. 

Bonus is wagered by collecting status points (SP) – 1 euro for each 100 SP. SP is awarded with rake – 10 points for every Euro of rake generated by a player.  You can check your rake points balance in your Bonus section of your account. The bonus can be wagered within 60 days. 
RedStar Poker rakeback
In the poker room RedStar Poker has the easiest and most straightforward loyalty program. Therefore, players have no questions about how and how much rakeback they get. Total loyalty program has two levels. On the Red level, which is available to all players, the exchange rate of SP for money is 50 points per 1 euro, which corresponds to 20% of rakeback. This level can not be lost, so regardless of the players' activity they can always get 20% rakeback. 

The second level, called Star, is reached when you accumulate 5000 SP in a month. At this level a more favorable exchange rate of 29 points per 1 euro is applied. This corresponds to 35% rakeback. To exchange status points for cash, go to your Point Exchange tab in your account. Points should be exchanged before the end of the month, otherwise they will be lost. 
To summarize RedStar Poker's rakeback, the room has one of the best and most generous loyalty systems сompared to other poker rooms in the iPoker network. During the wagering of the welcome bonus, rakeback can reach 45%. After that you can get up to 40% rakeback through reloads. 
RedStar Poker rake
In this poker room, there is a common rake allocation scheme, weight contributed, which means that the rake credited to a player depends on how much money he has invested in the pot. Depending on the limits this figure can vary. Also on different limits the rake is different.
| | | | |
| --- | --- | --- | --- |
| Limits | Number of players | Rake, % | Cap |
| NL2-NL5 | 2-10 | 6.67 | €0.5 |
| NL10 | 2 | 6.67 | € 1 |
| | 3-10 | 6.67 | € 2 |
| NL20 | 2 | 5 | € 1 |
| | 3-10 | 5 | € 2 |
| NL50 | 2 | 5 | € 1 |
| | 3-10 | 5 | € 3 |
| NL100-NL1K | 2 | 5 | € 1 |
| | 3-10 | 5 | € 4 |
Other network rooms have a different system of rake calculation – Source Based Rake. In this regard RedStar Poker differs favorably, as players can receive rakeback from the real rake, calculated without complicated calculations. In multi-table tournaments the commission is 10%, in Twister – 7%. 
Thus, rake at RedStar Poker is comparable to most rooms. However, at micro-limits the commission is higher. Therefore, this room is better for players of medium and high limits, where the commission has a standard value. 
Games and traffic
In terms of traffic, RedStar Poker is on fourth place in the rating of the most visited rooms. So the lack of cash tables and tournaments you will not experience. In the evening there is the highest attendance. In the room plays quite a lot of weak players, mostly registered from Europe. 
Hold'em
Traditionally, in RedStar Poker most of the game is played in Texas Hold'em. Tables by the rules of this type of poker make up over 90% of the total number of tables. The game is mostly played at 6-max tables, the full-ring at RedStar is not in demand. Despite the increased commission on micro-limits, most of the game is on the NL2 limit – about 70 tables. Approximately 40 tables are gathered on each of the NL10, NL20, NL50 limits. 
Omaha
Omaha at RedStar Poker is played only in the Pot Limit variety. The most tables for this type of poker can be found in the evening, Moscow time. The maximum limit played is PLO600. Occasionally more expensive tables up to PLO5K are gathered, but it is difficult to count on constant activity at these tables. 
Shortdeck (6+ Holdem)
Short deck Hold'em fans can find this game at RedStar Poker as well. Sure, it's not as popular as it used to be, but you can still find a few tables in the morning and afternoon. The game is played in a standard format, using only small and big blinds without ante. 
Fast Poker
Fast poker is also available at Redstar. Here it is called Speed Poker. Despite the fact that the game can be played on several limits ranging from NL5 to NL100, activity is only seen on the first two lowest limits. In total, about 200 people play speed poker.
MTT
RedStar Poker's tournament grid is capable of satisfying the needs of MTT pros who are at the beginning of their development. Every hour, about 5-6 tournaments start, costing from 1 to 10 euros. There are no more than 300 players in each of these events. Most of them are progressive knockouts with turbo structure. There are multi-day tournaments with prize pool of 30K, 50K and 10K worth 50, 150 and 10 euros accordingly. One-day tournaments with 50K and 20K prizes for 100 euros each are of the most interest for regulars. 
Twister
Spins at RedStar Poker can be played in two different variations. The first is the traditional hyper-turbo spins, taking place at 3-max tables, ranging in value from €1 to €200. The multiplier is determined before the game starts randomly. The maximum multiplier value is x1000. 
The second variety is Age of The Gods. This type of Spins also generates a prize pool at random, but in addition you can win one of the 4 available jackpots. There are three limits – 1, 5 and 10 euros. The structure is faster compared to the regular Twister. It is essentially a push-fold lottery, where the choice of action comes down to either an all-in or a fold. Thanks to ongoing rake races, the winner of which receives 20 €50 tickets, this poker format is popular at RedStar Poker. 
RedStar Poker Software
RedStar's software is developed by Playtech, the leading company in gaming platforms. Compared to GGPoker and "Eights", the RedStar Poker client may seem outdated. However, appearance is deceptive – in fact, the software is quite functional and reliable. The client is able to work even with up to 18 tables open at the same time. 
The lobby can be customized by the user according to many parameters. However, in case you need more fine-tuning, there is an opportunity to use iPoker Tools. There are also certain limitations in the client. For example, from the lobby you cannot see which players are sitting at the table – their nicknames are hidden. Also the nicknames are not visible until you sit at the table and make at least one bet. There is no function of queuing for a specific table. Of course, such innovations will not make regular players happy, but they make the game more balanced. 
Trackers Compatibility
RedStar Poker players can freely use all popular trackers, including Hold'em Manager 3, PokerTracker 4 and Hand2Note. The HUD is displayed directly without any problems. Considering that poker players of different levels and styles often play in the room (even at high stakes), the use of auxiliary software allows you to make the right decisions.
Reliability
There is no doubt about the safety and reliability of RedStar Poker for several reasons. This room has been operating in the online poker market since 2005, it has an official Curacao license, the random number generator is verified by GLI and iTechlabs. For almost 20 years, the poker room has never given rise to doubts on the part of players and affiliates. The impeccable reputation is one of the reasons for the popularity of RedStar Poker.
Deposit and withdrawal options
For financial transactions, Redstar offers a variety of payment systems. It is noteworthy that you can withdraw small amounts even without account verification. You can make deposits and cash=outs using bank cards, Skrill, Neteller, ecoPayz, WebMoney systems, as well as cryptocurrency wallets. The minimum deposit amount is $10, the maximum is $10,000. You can withdraw up to $10,000 using all systems, with the exception of bank cards (the limit for them is $1,000).
The following cryptocurrencies are supported: BTC, ETH, USDT, LTC. 2% is charged for conversion when funding an account, for cash-outs a commission of 3% is taken. Depending on the country of residence, the list of available payment systems may differ from the one given.
How to start playing at RedStar Poker
To start playing at Redstar Poker, you need to register and download the client to your personal computer or Android mobile device. The software has not been developed for iPhones yet, owners of iOS devices will be able to use the browser version of the site.
Registration
The registration process takes place on the official website of RedStar Poker, so creating an account via the client will not work. Go to the poker room website and click on the "Registration" button. A registration form will open in which you need to fill in all the fields with personal and contact information. Enter all the data correctly, exactly with the passport data. During registration, you should also choose the currency of the game. Choose the currency in which you will make deposits and cash-outs in order not to lose extra interest on additional conversion.
To download the software to your computer or phone, visit the "Download" section. Select the desired OS version and download the installation file. Unzip the file and complete the installation. If you plan to use poker trackers, please select English instead of Russian, which is the default.
Verification
In order to be able to withdraw funds without restrictions, you need to verify your account. To do this, you must confirm the personal and contact details that were indicated in the registration form. You should send photos of your passport or driver's license to the support, as well as pages with a residence permit or a bank statement indicating the address of residence.
Conclusion
RedStar Poker is a reliable poker room with a long history of existence and an unblemished reputation. The ability to use trackers, a clear rakeback accrual system, as well as relatively weak fields make this room an excellent choice for regulars. 
❓ Why is it profitable to play on RedStar Poker?
RedStar Poker is a part of iPoker's network and you can always find a good game at all limits and in all disciplines. There are a good rakeback deal and perfect bonus for the first deposit for PokerProDeals players.
❓ Does RedStar Poker have a sign-up bonus ?
RedStar Poker gives new players a sign-up bonus of up to $2000.